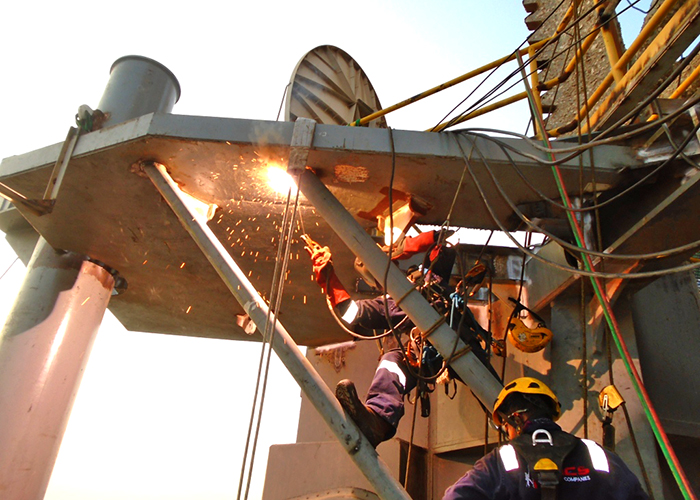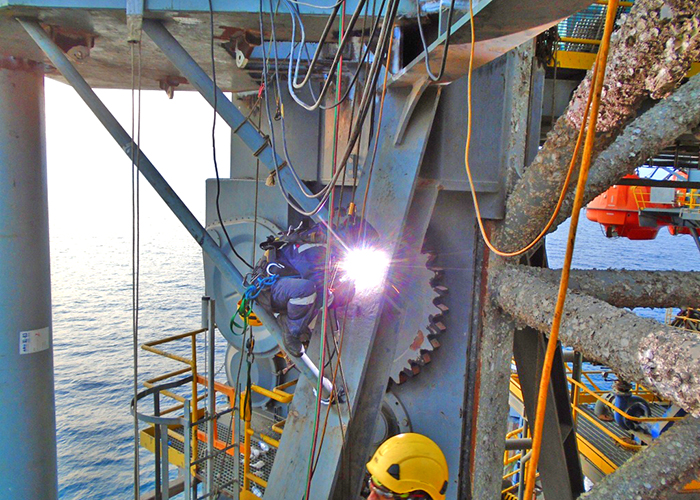 Rope Access is normally utilized as an option in contrast to traditional access arrangements, for example Scaffolding, MEWPs etc. Rope Access is likewise significant in circumstances where conventional access arrangements are not practical. Rope access is swiftly becoming a preferred method of carrying out inspections, tests and maintenance in various industries across the globe. It allows safe and rapid access to remote locations for a wide range of inspection, testing and structural engineering functions. The versatility of rope access services permits flexible and comprehensive service on the inspection and structural maintenance programs. Since, rope systems are unobtrusive, it benefits clients who wish to retain the visual integrity of the structure during inspection or maintenance works.
Aries, a full member of IRATA, is a leading Engineering and Inspection organization, providing engineering, inspection, maintenance services to the Marine, Offshore, Oil & Gas, Civil Construction and Structural Maintenance Industries worldwide. Honed with years of experience, we have developed our capabilities to provide extensive inspection /maintenance management services to the industry.
We do visual/dimensional inspection of Drill pipes/Casing/Tubing/BHA tools/HWDPS/Rig parts and Handling equipment in order to confirm the acceptability as per required standards Eg:-API RP7G/TH Hill DS-1/NS-2 etc.
Our management approach encompasses the entire project management of inspection and maintenance process ranging from planning, resource management, work scope, work pack compilation and data analysis. Hundreds of satisfied clients around the globe vouch for our professionalism in service. Our qualified and experienced personnel are professionally trained and certified by IRATA, the Industrial Rope Access Trade Association, and operate under the guidelines of the IRATA International Code of Practice.
Aries Rope Access specialists have always stood ahead of other companies because of the commitment and dedication offered to their clients.
High Safety Standards

World-Wide Services

Minimal Mobilization Time

Professionally trained qualified personnel

Professionals with seaman book

Well-equipped and experienced NDT team

Good track record of working in Iconic Structures

Well experienced Corrosion Control team

Specialized survey team for FPSO/FSO/ Jackups /Offshore Platforms

Access to a team of Naval Architects in-house.

Multinationals with US/ Schengen / Singapore/ Chinese and Nigerian visa holders

Online Report Management System

Approval from all major classification societies
Key Services
Ultrasonic Thickness Measurement Surveys with Cyclops .

Close Visual Inspections

Non-Destructive Testing

ACFM is a current perturbation technique and it is significantly different to the conventional Eddy Current Testing method. This offers very substantial benefits and it is being used to good effect with divers and rope access technicians. ACFM does not require the removal of paint coatings, standard probes can operate through non-conductive coating up to 5mm thick. Inspection Data is available electronically for audit and integration into plat management software. Overall ACFM offers improved reliability and significant cost benefit compare to the conventional inspection methods.

Magnetic Particle Inspection

Ultrasonic- Flaw Detection, Thickness Gauging

Coating unit .

Ultrasonic inspection equipment .

Liquid Penetrant Inspection.

Eddy Current Inspection .

ACFM Inspection (Alternating Field Current Measurement).

Hull Integrity Surveys

Lifting Surveys and Inspections

Dropped Object Surveys

Derrick Surveys (API RP 4G - CAT-III)

Flare Stack/ Radio Tower Inspections

Riser/Well Head Inspections

Structural Integrity Inspections
Corrosion Control services.

Ultra-high Pressure (40K psi) Coating Removal and Application

Hydro blasting/Ultra High-pressure Water Jetting is the best eco-friendly surface treatment/preparation solution available now. It provides minimal setup time, dust free, clean working environment with very minimal effort/time to clean the residue. Freshwater is being used at a pressure more than 2000 - 2500bar and it is discharged through a rotating multiple jet assembly called jetting gun which could be triggered by the operator.

Anode Installation/Replacements

Our experienced and certified welders, fabricators and riggers could safely remove and replace anodes of offshore and onshore structures at height. Our dedicated team could handle the safe maneuvering and installation of anodes even more than 100 Kg. with very minimal set-up time and removes the need for invasive access equipment or scaffolding erection.

Abrasive blasting and painting.

HP Washing and Cleaning

Welding and Fabrication Services

Rigging and Lifting

Jetty Pile inspection and coating rectification.

Installation of Aircraft warning light.

Bolt Tightening and Torqueing.

Insulation, Installation and Repairs.

Structural Installation on High Rise Buildings.

Lightning conductor installation/removal.

Derrick Repairs, Installation & Dismantling.

DROPS Rectification.

Electrical Installation and Maintenance.

Flare tip Removal and maintenance

Storage tank maintenance.

Ship superstructure, name changing and bridge wing external painting.

Form pourer testing assistance..

External shell & roof washing and cleaning..

Fire nozzles, flanges overhauling, cleaning, and gasket replacement.