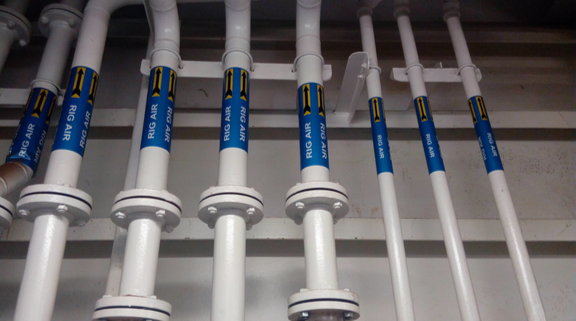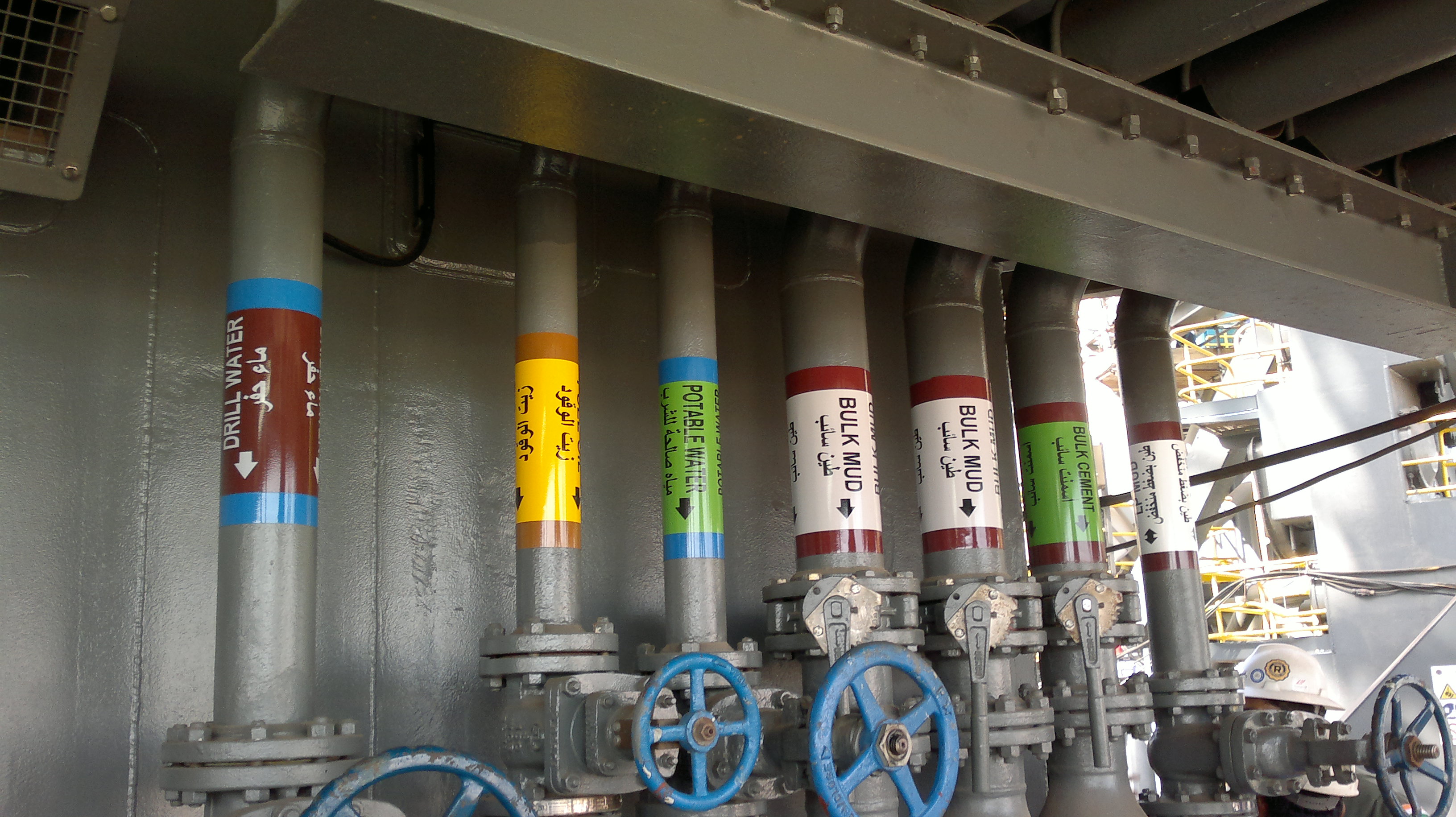 We provide safety solution to a wide range of customers in Marine, Offshore, Oil and Gas Industries; whether it's labelling the smallest component or complete signage with clearly visible and relevant data of origin, destination and contents of piping systems or identifying the location of valves and equipment and presence of safety hazards according to different standards like ASME A13.1, BS1710, RLCGL/002/2004, ISO-14726, NR-26, IIAR Bulletin # 114, NOM 062.
Our intention is to raise the level of safety awareness by standardizing hazard identification and piping system layouts for a better safe work conditions that minimize downtime due to errors or accidents.
It's a comprehensive approach to mechanical identification that we backup with our long-standing commitment to innovative products, quality service and on time delivery.
Our products provide protection from sunlight and maximum resistance from acids and bases found in process operations. Subsurface printing and TEDLAR lamination protect graphics from chemical damaging, sun fading for a minimum service period of 5 years and temperature range from -40 to 250 F.
All activities shall be implemented without any interruptions in client's existing activities. Our services can respond to very short notice, any markers needed as a result of Punch List changes or other client requirements. With our Rope Access team, the time delay for erecting the staging can be reduced and the job can be performed before the committed time period. We also have an well experienced in-house engineering team for preparing P&ID, FFA and LSA.
Low location lighting
The Low Location Lighting (LLL) is a unique system that allows all evacuation routes to stay illuminated, thereby communicating a clear, continuous and unambiguous "means of escape "Aries has the approval by IACS as a service provider for Photoluminescent low location lighting measurement and assessment. All LLL systems should have their Luminance tested once in every five years. Aries technicians are available worldwide to help you to meet the classification bodies' requirements in a fast and cost-effective way.
Coiled Plastic markers.
Duct Markers.
Flow direction arrow tapes.
Medical gas markers.
Economy pipe markers.
Adhesive Roll Markers.
Colour band tapes.
Pipes class marking.
Photoluminescent signs.
Lifesaving appliance signs.
Firefighting appliance signs.
Escape route marking.
Muster station marking.
PVC Slide-in Pictograms.
Safety/Operational Signs.
Safety awareness posters with different languages.
Warning, Mandatory and Prohibition Signs.
Combination signs.
Compartment Safety precaution signs.
Photoluminescent testing .
Photoluminescent Floor Marking.
Photoluminescent Stairs Marking.
Photoluminescent Wall Marking.
PVC Vinyl stencils .
Plastics stencils.
Metal/Plastic Engraved tags .
Lockout Tagout (LOTO).
High-Performance Stainless-Steel Cable Markers
Self-laminating Accident Prevention Tags.