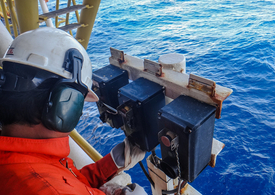 Ex survey is conducted to mitigate the risk of explosions and accidents arising from electrical equipment that are exposed to hazardous environments. Applications of Ex survey shall be in refineries, fixed offshore platforms, floating offshore installations, industrial plants of fire risks.
Ex Survey is a survey that includes in depth analysis of current and/ or preparation of new, hazardous area classification drawings and in-depth inspection of equipment compliance. Explosion surveys by our competent and certified surveyors ensure electrical ignition sources in your Hazard rated spaces are properly contained. We verify compliance with standards specified by all major codes, pivoting around 60079 legislations: IECEx & ATEX. Our survey reports include a comprehensive Ex register, updated zone drawings and recommendation for rectification of all non-compliances recorded, features such as cloud storage of reports & RFID tagging are an addendum to part of survey to ease in track keeping.
Our Ex Inspection Services Certified Equipment Surveys & Maintenance services are being used by Drilling contractors all over the world. This covers Ex surveys and rectification works on fleets to skids.
Below are scopes included in our Ex inspection works:-
Survey & data gathering of Ex equipment

Healthcare & audit checks on Ex equipment

Client Ex register management

Visual and detailed inspections of Ex Equipment

Procurement of defect list tabulated during the survey

Installation and testing of items found defected during the Survey.